Open group courses for individuals to join,
Media Training
Media Training Course – 1-Day (PUBLIC COURSE in English)
Group size:

4 participants

Next available course:

April 5, 2024

Price/person:

850 CHF (775 CHF early booking price)

Custom courses & privates:

Contact us
Executives and subject experts are often faced with questions from the media, internal audiences, and panels. Are you ready? If not, we can help. You'll learn to manage your nerves and prepared for various types of interviews and other impromptu situations. This Media Training Course provides concrete tools to help you respond to questions with confidence and charisma.
This workshop is open to the public, so individuals can attend this small group training. The course is limited to just 4 attendees, held in English, and in Switzerland. It includes preparation tools, filmed practices, and individual tips for self-development. Attendees receive a certificate of completion.
Media Training Course – Dates:

| Training Course Dates | Days of Week | Early Booking Discount Until | Availability |
| --- | --- | --- | --- |
| February 9, 2024 | Friday | N/A | FULL |
| April 5, 2024 | Friday | February 24, 2024 | Available - Martigny |
| August 30, 2024 | Friday | July 19, 2024 | Available - Martigny |
| | | | |
Limited to just 4 course attendees.
Who should attend this Media Training Course:
This Media Training Course is for executives, subject experts or anyone who represents a company or non-profit to journalists, the public, employees, or social media bloggers. It is designed for international leaders, technical experts, communication managers, product managers, plant managers, product spokespersons, or advancing professionals. It is also appropriate for communication professionals helping those who represent the company.
Media Training Course – Topics:
The small group allows us to tailor the course to your needs and practice at each step along the way. We cover normally cover general theory and practice interviews, panels, and questions after a speech.
Topics typically include the following:
Overcoming your fear and building confidence
What to wear, where to look, and how to be charismatic
Using your voice and words to keep the audience engaged
Preparation – Developing your strategy, key messages, and responses to questions
Opening statements
Handling hostile questions
Tips and tricks to win over the audience
Practice, practice, practice for your situation (journalist, panels, impromptu speaking, or Q&A after a speech)
Practices are videoed and reviewed privately with your coach to obtain personal tips and exercises
Reserve 1-Day Media Training
Your instructor:  Kimberly VanLandingham
CEO of European Market Link Sàrl
10+ years as a corporate and TEDx presentation and public speaking trainer
20+ years of international management experience with the DuPont Company (e.g. Global Teflon(r) Consumer Products Business Leader, Global Business Manager, EMEA Regional Manager, Growth Manager, R&D Manager, etc.)
Product spokeswoman on TV and radio, and a keynote speaker
Masters in cross-cultural communications (MACCC) and BS in engineering (BSEE)
Member of SIETAR Europa & former board member for SIETAR Switzerland (Society of Intercultural Educators, Trainers and Researchers)
Easy-to understand native English speaker (so able to help with English wording)
High-energy, practice-oriented! You'll learn by doing.
Small classes (maximum 4 people) enable practice with interview questions, post-speech questions, and being part of a panel.
Personal tips and coaching for each attendee.
Filmed practices to help build your own style.
Designed for international business managers, non-profit leaders, and technical experts.
You'll learn from each other in a comfortable and fun environment.
Participants leave the workshop feeling more confident and excited to give their next business interview.
Reserve 1-Day Media Training

Media Training – Public Course location:
European Market Link Sàrl
Rue du Léman, 14
CH-1920 Martigny
info@PresentationTrainingSwitzerland.ch
+41 (0) 79 414 41 50
Our training facility is just a couple minutes walk from Martigny's main train station, with direct trains from Geneva, Lausanne, Bern, and Brig. It's also close to the motorway and parking.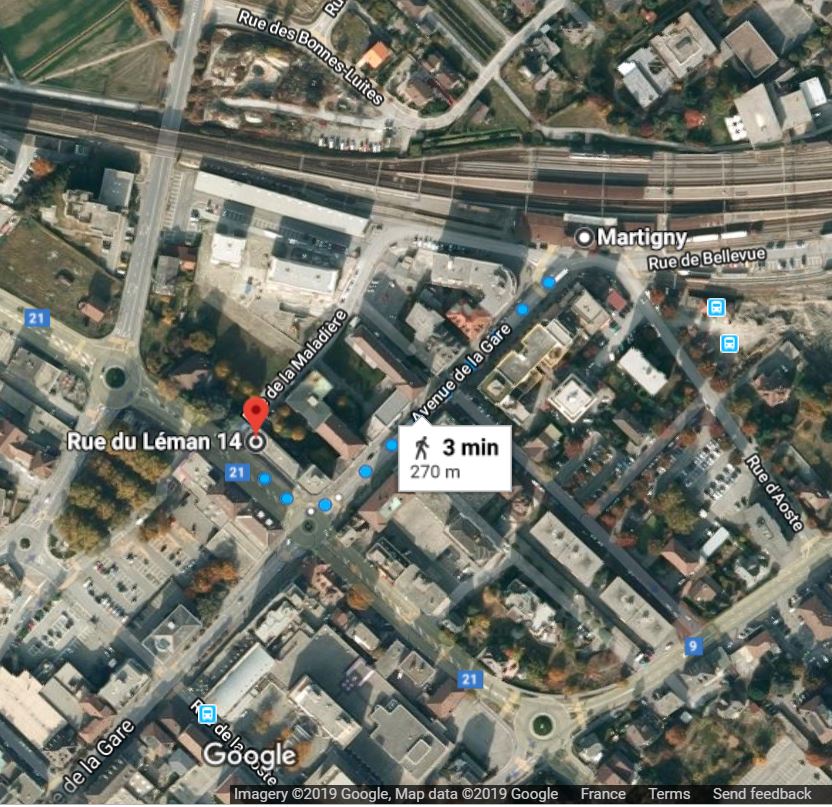 Media Training Course price:
The price for this public course is just 850 CHF/person, 775 CHF/person with the early booking discount. Classes are limited to just 4 participants. Price includes training facility, facilitation, training booklet, other workshop materials, private video of your practice interviews, coffee, rolls, and fruit. We break for lunch so you can enjoy the nice restaurants close by. Contact us to discuss corporate groups or private media training prices.
NOTHING TO LOSE – Flexible booking and change policy:
Cancel or change dates for free up to 28 days before the course. Last minute date changes require a 250 CHF change fee.
You may transfer your course reservation to another person at any time for free.
You may reserve with a deposit (400 CHF) or the full payment. (Final payments are due 2 weeks before the course.)
We accept credit cards, PayPal, or you can request a personal or company invoice to make a bank transfer.
2-Day Presentation Training Details         1-Day Advanced Training Details         Course Comparison
Contact us to check availability, for more information on this workshop, or for custom corporate courses, available throughout Switzerland, including Geneva, Lausanne, Vevey, Montreux, Sion, Fribourg, Thun, Bern, Biel, Zurich, Basel and surrounding areas.
Contact us