Open enrollment group courses
Presentations & public speaking for managers – 1 Day (Open enrollment training course in English)
Group Size:

3 participants maximum

Next training course:

August 20, 2020

Price*:

990 CHF/person (890 CHF with early booking discount)
Gain confidence, clarity, and charisma in this highly interactive small-group management workshop.  Designed specifically for technical and business leaders with little time, you'll learn our step-by-step process to develop and deliver great presentations.  You'll take away tools to overcome your speaking fears, and to develop presentations that are easy-to-deliver, while engaging your teams and your customers.  By limiting the workshop to just 3 people, you be able to practice and receive personal coaching, and video feedback, to address your specific individual and business needs.
This is an intense course for those wishing to learn and practice in just one day.  This course is provided in English.  It includes a course booklet and videos of your presentations.
1-Day Presentations & Public Speaking for Managers – Condensed into 2 half-days:
Open to the Public, but limited to only 3 people/course.
Thursday, August 20, 2020 — 9:00 to 18:00
Contact us for course availability and to reserve your place.
Who should attend this training workshop:
Technical or business managers, or advancing professionals, who have presentation experience and wish to improve their presentation clarity, delivery or confidence.
We suggest our 2-Day Presentation & Public Speaking Training for Business Course for professionals, leaders with less presenting experience, or those wishing to practice more.  We recommend our Executive Presentation Training (Private Coaching) for leaders preparing for a specific event, where time is needed to prepare or refine a presentation.
Presentations & Public Speaking for Managers – training workshop topics:
Introduction and your goals for this course
Overcoming your fear and building confidence
Communication and the audience's brain: Communication rules used by great presenters
Preparation:  Planning to get results
Content:  Choosing content for a memorable talk
Structures and stories:  Structuring your speech with storytelling and other power tools
Hooks:  Opening and closing techniques to hook the audience
Visual aids:  Powerful slides and other tools
Speaker's body:  Body language that works
Speaker's voice:  Using your voice to engage the audience
Videos, workshops or practice sessions (with video feedback) are included with most topics, so you gain confidence and refine your technique throughout the day.
Your instructor:  Kimberly VanLandingham
CEO of European Market Link Sàrl
Corporate and TEDx presentation and public speaking trainer
Over 20 years of corporate and international management experience with the DuPont Company (e.g. Global Teflon(r) Consumer Products Business Leader, Global Business Manager, EMEA Regional Manager, Growth Manager, R&D Manager, etc.)
Product spokesman on TV and radio, and a keynote speaker
Masters in cross-cultural communications (MACCC) and BS in engineering (BSEE)
Easy-to understand native English speaker (so able to help with English wording)
What makes this presentation training workshop different:
High-energy, action-oriented!  You lean by doing.
Small classes (only 3 people) enable practice presenting and speaking, with personal coaching.
Video feedback for you to build your own style.
Designed for technical, sales, and business managers.
You'll learn from each other in a comfortable and fun environment.
Participants leave the workshop feeling more confident and excited to give their next business presentation.
Presentation training course prices:
*The price is 990 CHF/person, 890 CHF with the early booking discount.  Classes are limited to only 3 participants.  Workshops fill-up quickly, so book your place early.
Thursday, August 20, 2020 (9:00 – 18:00)
990 CHF/person, 890 CHF, if reserved before June 20, 2020
Price includes training facility, facilitation, training manual, other workshop materials, private video of your practice presentations, morning coffee and tea with croissants, and afternoon cold drinks with cookies and fruit.  We break for lunch to enjoy some fresh air and the nice restaurants close by.
Contact and presentation training course location:
This open-enrollment training course will be held at our training facility in Martigny, Switzerland: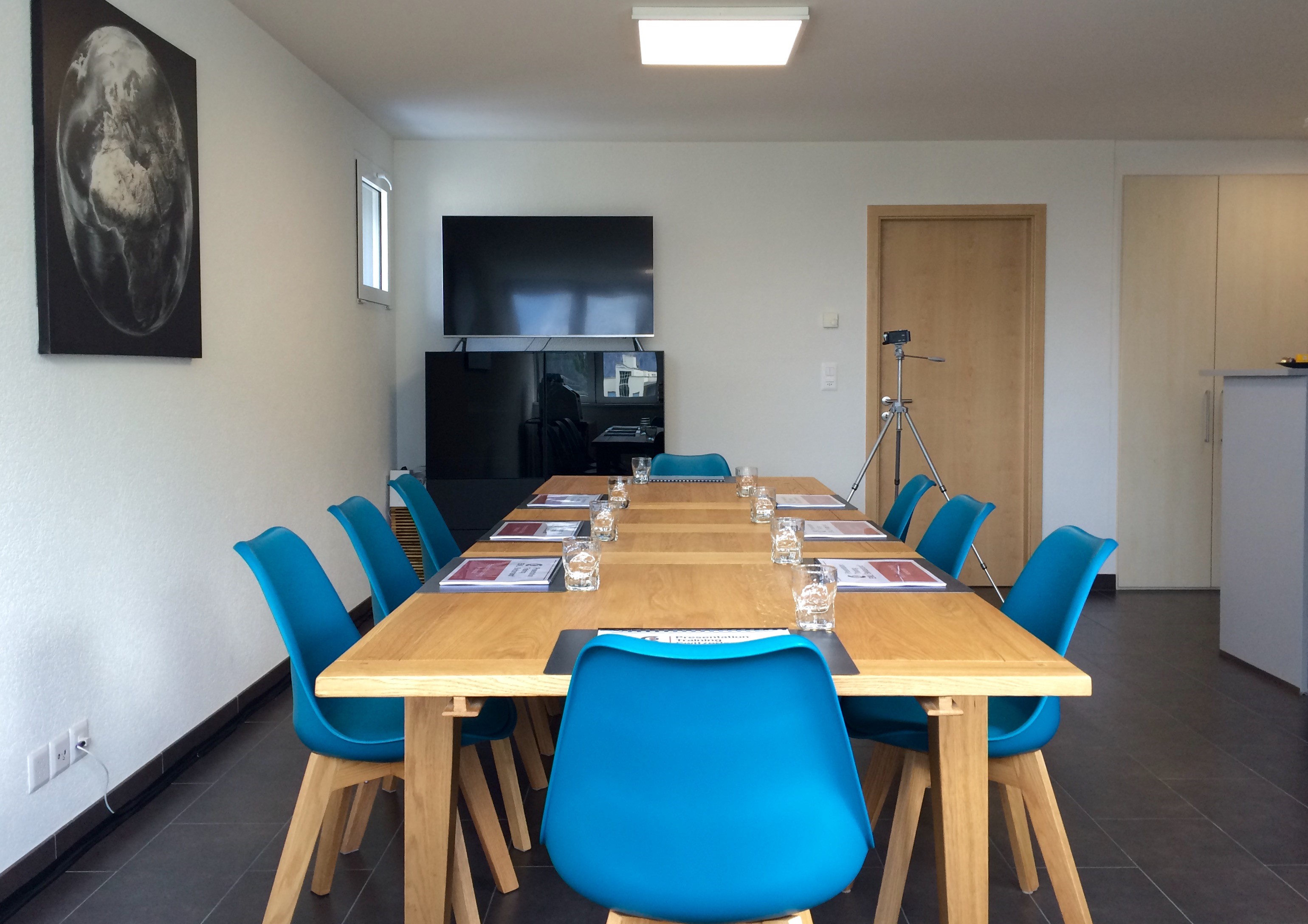 European Market Link Sàrl
Rue du Léman, 14
CH-1920 Martigny
info@PresentationTrainingSwitzerland.ch
+41 22 548 03 65
Martigny is a beautiful town in the French part of Switzerland.  Nestled between three valleys, it's surrounded by vineyards and mountain peaks, yet easy to access by train or car.  You'll enjoy sampling the local wines and creative cuisine at a wide selection of bars and restaurants.  With sculptures throughout the town, a roman stadium and modern art exhibits; Martigny is known as the "ville d'art et de culture."
This training center is just a couple minutes walk from Martigny's main train station, which is a stop on several Swiss train lines.  It's also close to several reasonably priced hotels, parking. and the motorway.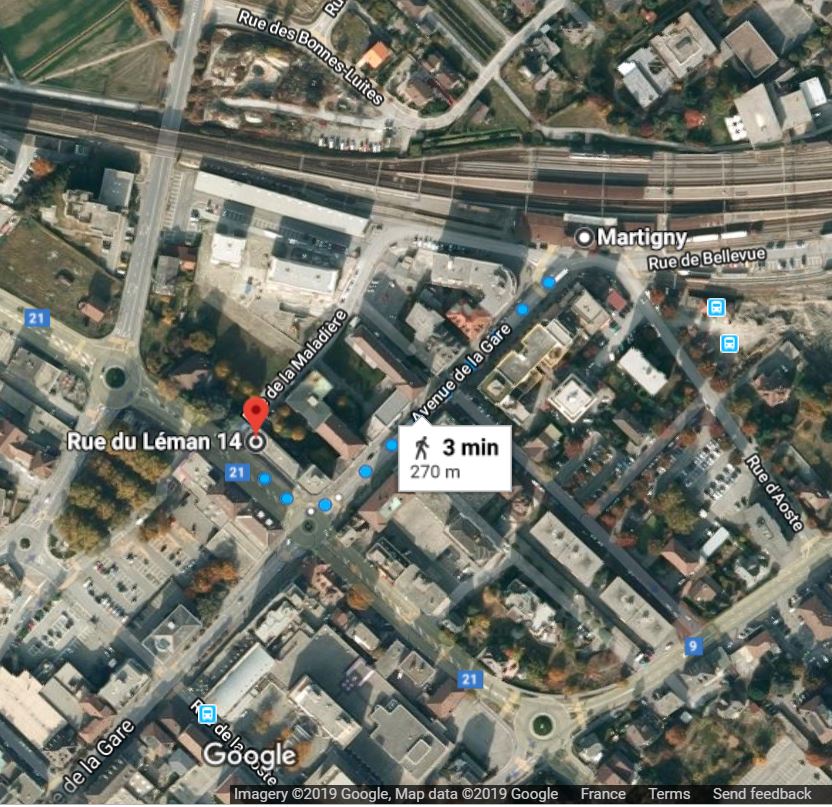 Here are helpful transportation links:
Course reservation:
Contact us to check availability, ask questions, then decide on payment method.
Pay 30% deposit to hold your space.  (Your receive an invoice for a bank transfers or a MasterCard/Visa payment.  You also receive a welcome email with course information and maps.)
Final payment is due 1 week prior to the course.
Cancellation and change policy:
If you need to change courses…
You may transfer your deposit or final course payments to another person, who will attend in your place at any time.
The 30% deposit can be transferred to a later course, if you tell us at least 1 month prior to the workshop that you originally reserved.
The final payment and deposits, with cancellation notices of less than 1 month, can be transferred to a later course if we re-sell the place on the original course.  Otherwise, I'm sorry, but you'll lose the deposit, but you can still transfer the final payment.
Contact us to check availability, for more information on this workshop, or for custom corporate courses, available throughout Switzerland, including Geneva, Lausanne, Vevey, Montreux, Sion, Fribourg, Thun, Bern, Biel, Zurich, Basel and surrounding areas.
Contact us