Open enrollment group courses
Presentations & public speaking practice & coaching – 1-Day (Open enrollment course in English)
Group Size:

3 participants maximum

Next training course:

August 5, 2022

Price*:

995 CHF/person (925 CHF with early booking discount)
Gain confidence, clarity, and charisma in this highly interactive small-group workshop. Designed specifically for technical, sales, and business professionals wishing to build skills and confidence. This course focuses on your needs and uses video feedback to help you find your individual style. By limiting the workshop to just 3 people, you'll be able to practice and receive personal coaching in a comfortable setting.
This course is provided in English by our highly experienced and rated TEDx trainer.
1-Day Presentations & Public Speaking Practice & Coaching – Dates:
Limited to just 3 speakers/course.
| | | |
| --- | --- | --- |
| COURSE DATE | DAY | EARLY BOOKING CUT-OFF DATE |
| August 5, 2022 | Friday | July 5, 2022 |
| April 18, 2023 | Tuesday | March 11, 2023 |
Who should attend this training:
Technical or business managers, or advancing professionals, who have presentation experience and wish to improve their presentation skills or confidence through practice.
We suggest our 2-Day Presentation & Public Speaking Training for Business Course or our Virtual Presentation Training Course for professionals wishing to learn the full process, along with practice.  We recommend our Executive Presentation Training (Private Coaching) for leaders preparing for a specific event, where time is needed to prepare or refine a presentation.
Presentations & Public Speaking Practice & Coaching – Topics:
This course focuses on your needs and lots of PRACTICE!
While our 2-day course systematically covers a topics associated with developing and delivering your presentation, the 1-day course focuses on practice and coaching tailored to the needs of the 3 people on the course. Topics vary, but often include the following:
Overcoming your fear and building confidence
Connecting with the audience
Using your body and voice to speak with charisma
Structuring your speech to sell, persuade, or get action
Choosing words that work and avoiding those that don't
Hooks:  Opening and closing techniques to hook the audience
Tips and tricks for making slides with a bit of "wow"
Virtual presenting tips
Your instructor:  Kimberly VanLandingham
CEO of European Market Link Sàrl
Corporate and TEDx presentation and public speaking trainer
Over 20 years of corporate and international management experience with the DuPont Company (e.g. Global Teflon(r) Consumer Products Business Leader, Global Business Manager, EMEA Regional Manager, Growth Manager, R&D Manager, etc.)
Product spokeswoman on TV and radio, and a keynote speaker
Masters in cross-cultural communications (MACCC) and BS in engineering (BSEE)
Member of SIETAR Europa & former board member for SIETAR Switzerland (Society of Intercultural Educators, Trainers and Researchers)
Easy-to understand native English speaker (so able to help with English wording)
What makes this presentation training workshop different:
High-energy, action-oriented!  You'll  learn by doing.
Small classes (maximum 3 people) enable practice presenting and speaking, with personal coaching.
Video feedback for you to build your own style.
Designed for technical, sales, and business managers.
You'll learn from each other in a comfortable and fun environment.
Participants leave the workshop feeling more confident and excited to give their next business presentation.
Presentation training course prices:
The price is 995 CHF/person, 925 CHF with the early booking discount. Classes are limited to only 3 participants. Workshops fill-up quickly, so book your place early. Price includes training facility, facilitation, training manual, other workshop materials, private video of your practice presentations, morning coffee and tea with croissants, and afternoon cold drinks with cookies and fruit.  We break for lunch to enjoy some fresh air and the nice restaurants close by.
Presentation training course location:
European Market Link Sàrl
Rue du Léman, 14
CH-1920 Martigny
info@PresentationTrainingSwitzerland.ch
+41 22 548 03 65
Martigny is a beautiful town in the French part of Switzerland. Nestled between three valleys, it's surrounded by vineyards and mountain peaks, yet easy to access by train or car. You'll enjoy sampling the local wines and creative cuisine at a wide selection of bars and restaurants. With sculptures throughout the town, a roman stadium and modern art exhibits; Martigny is known as the "ville d'art et de culture."
This training centre is just a couple minutes walk from Martigny's main train station, which is a stop on several Swiss train lines.  It's also close to several reasonably priced hotels, parking. and the motorway.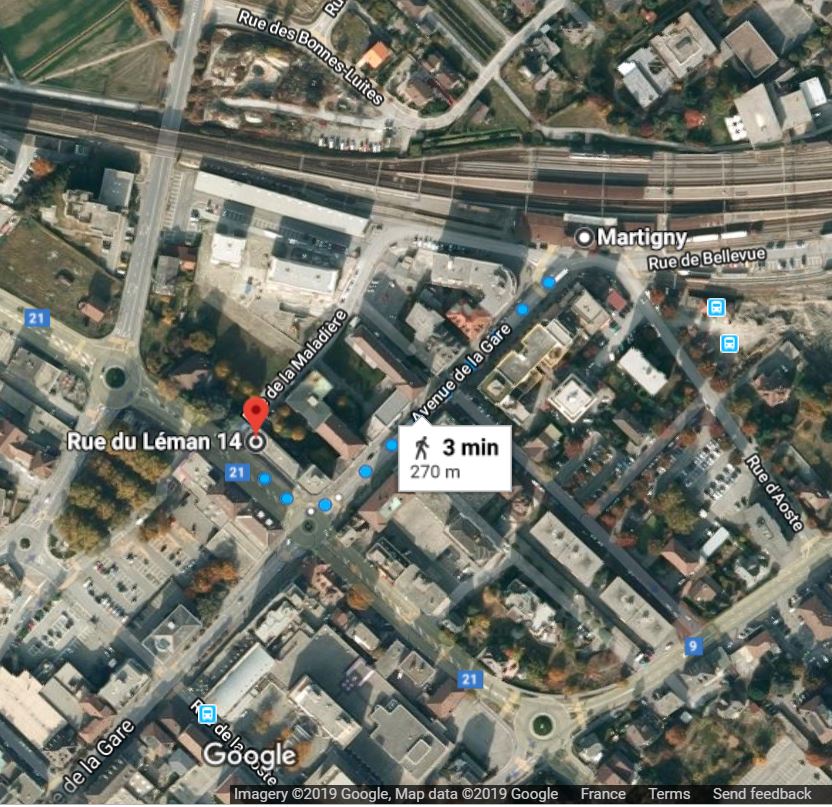 Here are helpful transportation links:
Course reservation:
Pay nothing now.
Complete the form below to check availability, ask questions, and provide invoice information.  Then, we'll send you an invoice.
Pay the 30% deposit to reserve your space on the course.  Then, we'll send you an email confirmation with course details and hotel suggestions.
Final payment is due 1 week prior to the course.
NOTHING TO LOSE – Flexible change policy:
You may transfer your course reservation (and payments) to another course date, to a virtual course or to another person to attend in your place.
Contact us to check availability, for more information on this workshop, or for custom corporate courses, available throughout Switzerland, including Geneva, Lausanne, Vevey, Montreux, Sion, Fribourg, Thun, Bern, Biel, Zurich, Basel and surrounding areas.
Contact us